Wednesday, March 8th, 2017
Background: Undesirable fat collections around the body, medically known as lipodystrophy, are usually caused by excess calories and results from their storage. But in some people and in certain locations of the body, fatty collections are more congenital in origin and are aggravated by weight gain. Even at a patient's ideal weight these fat collections persist.
One such congenital lipodystophic condition is that of cankles. This urban term refers to the shape of the leg that is virtually the same from the knees down to the ankles. It occurs because there is a thicker than normal subcutaneous fat layer between the calfs and the ankles. This creates a uniform leg thickness below the knees with no defined or curvilinear leg shape. Whether it occurs in an overall larger leg or in a much smaller leg, the appearance of cankles is unmistakeable.
Case Study: This 36 year-old female presented for cankle liposuction. Despite her fairly short stature, she has a large body frame. She has lost a lot of weight but the thickness of her lower leg did not change. She was unable to wear boots and had to wear pants that were too big at the waist to get her lower legs to fit into them.
Under general  anesthesia and using a tumescent technique, her calfs and ankles ere treated with small cannula liposuction. Different entrance sites were done behind and below the knees as well as on the inside and outside of the ankles. Each lower leg had about 1,500cc per side.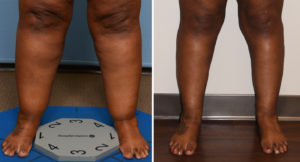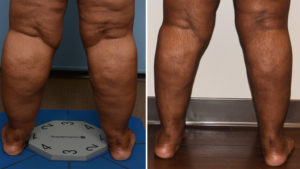 It took several months until most of her swelling resolved and almost 4 months until her legs felt completely soft and supple again. Her results show substantial size reduction and  the semblence of some better leg shape. She was now able to wear boots which she could not do before the procedure.
Cankle liposuction can be a very effective procedure for lower let reshaping even in extremely large lower legs. The amount of circumferential skin limits as to how much size reduction can be achieved.
Highlights:
1) Large collections of fat in the lower extremities is a congenital condition that not be reduced in size by diet or exercise.
2) Cankles refers to a consistent thickness from below the knee right down to the feet.
3) Large volume liposuction of the lower extremities would be considered any amount over 1,000cc per leg.
Dr. Barry Eppley
Indianapolis, Indiana