March 17th, 2017
Rhinoplasty is the most common facial reshaping procedure with a long and rich surgical history. While techniques for reshaping the nose have changed and evolved over the years, the one issue that has persisted is the need for some form of postoperative compression. It is viewed as an essential element of the surgery and can have a major impact in the final result.
The purpose of postoperative nasal compression is two-fold. The most obvious reason for its use is to keep down the swelling of the nose which will occur. Control of such swelling has great value in an operation that both sits in the middle of your face and is well known to take up to a year to fully go away. Its second purpose, and one of equal value, is to help adapt the skin back down to the reshaped osteocartilaginous nasal framework. If fluid and eventual scar develops underneath the skin, the external appearance of the nose will not show the details of how the new nasal structure actually looks.
The use of tapes and a variety of splints is applied at the end of the operation and usually maintained in placed for a week after surgery. Different types of nasal tapes and splints exist and there are no proven advantages to one method/material over another. What is important is some compression is better than no compression.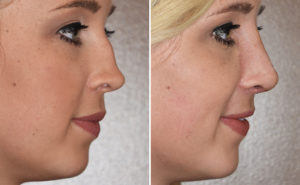 What to expect after the nasal dressings is removed is important for patients to understand. The moment the nasal dressing comes off is not a 'TV' moment. This is not the final result and the recovery process is not over. The nose has been maximally compressed and, while it may show some positive changes and almost always does, the nose is still distorted from swelling and compression.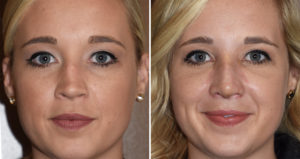 Once the rhinoplasty dressing is removed one can expect some rebound swelling to occur since it is not longer compressed. It will swell up a little bit and the nose may look somewhat bigger and puffy. It will take another one month or so until the nose starts to look as 'small' as it did when the dressing was removed. How soon this occurs depends on the natural thickness of one's nasal skin. The final outcome of the nose shape awaits a full sic to twelve weeks after surgery.
Dr. Barry Eppley
Indianapolis, Indiana