Background: Major skull augmentations are most commonly requested in females. The maximum point of projection is almost always over the crown of the skull with the intent of creating a large internal 'bumpit'. To create such a skull augmentation requires two essential ingredients…an implant method to create it and the scalp laxity to cover it. The combination of contemporary custom skull implant designs and the historic use of scalp tissue expansion solves that aesthetic dilemma. 
Numerous methods have been used to create aesthetic skull augmentations of which bone cements remain the most historically common. Bone cements sound very appealing but it is important to recognize that the most common one used is PMMA which is a plastic material. The important word here is 'cement' as that is what they are used for by design in orthopedic surgery. The 'bone' part does not imply that they turn into or bond to bone. They are a synthetic implant material like many other implant materials and will act as an onlay on top of the skull like all other implants. (create a bony imprint with an intervening fibrous capsule) The one bone cement exception is that of HA or hydroxyapatite but it is so expensive per gram that it has very limited use in aesthetic surgery.
Bone cements in skull augmentation are best used with wide open access through a coronal scalp incision. This not only permits adequate shaping of them during application but also permits high volumes to be placed due to the enhanced scalp mobilization. But when it comes to using more limited scalp incisions bone cements create significant restrictions in both shaping and the volume that can be placed.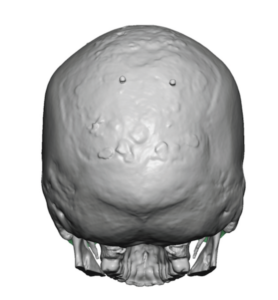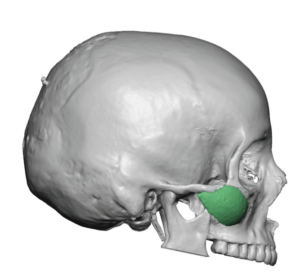 Case Study: This female presented for a definitive large skull augmentation after having a prior PMMA bone cement augmentation procedure of the crown years ago. A current 3D CT scan showed the outline of the cement on the bone with two fixation screws. The volume of the bone cement was 60ccs.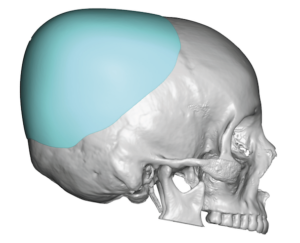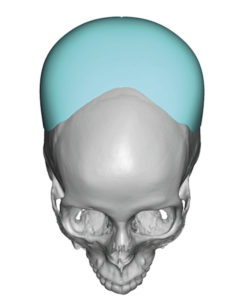 A large custom skull implant was designed at 270ccs which far surpassed the existing bone cement volume by a factor of 4.5X. This was done with the knowledge that a first stage scalp tissue expander would be used to create the scalp stretch required. Over a three month period the scalp expander volume reached 300ccs.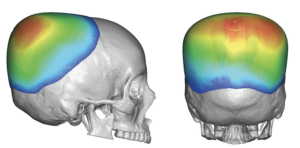 The patient desired maximum projection over the crown of the skull as well as around the sides into the parietal-temporal regions. (red is thickest regions of skull implant)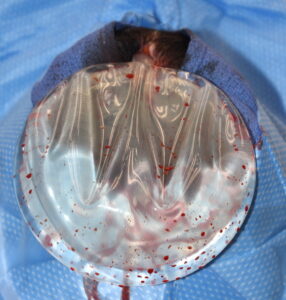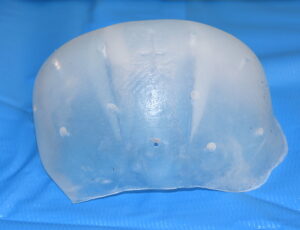 During implant placement the existing vertical scalp incision was used and extended a bit both anteriorly and posteriorly. The scalp tissue expander was removed as well as all capsule that was on the bone. Circumferential capsulotomies were performed as the implant footprint as both bigger and had a different shape that the round 14cm diameter tissue expander.
The custom skull implant was placed and fit with no undue tension on the scalp closure. The attached capsule to the scalp which had been retained provides an extra layer of closure over the implant and increased the scalp's thickness. A drain was placed and removed the following day.
While scalp expansion has been a reconstruction method since the 1980s, it is often forgotten and rarely used in aesthetic surgery. But for large skull augmentations, where the custom design process can virtually make any size implant, it is an essential tool and necessary first stage. What also makes scalp expansion essential in large skull implants is that the incisional access is limited. While greater scalp mobility would undoubtably be obtained by a long coronal scalp incision, such resultant scars are less acceptable in the aesthetic patient. With smaller incisions another method has to be used to create the needed scalp stretch/laxity…and a scalp tissue expander fits that need. 
Case Highlights:
1) Large skull augmentation in some females require a two stage approach with a first stage scalp tissue expander.
2) Some females have had unsuccessful skull augmentations initially using bone cements which have a limited volumetric effect.
3) The volume of scalp tissue expansion should approximate that of the volume of the designed custom skull implant.
Dr. Barry Eppley
Indianapolis, Indiana