Sunday, July 27th, 2014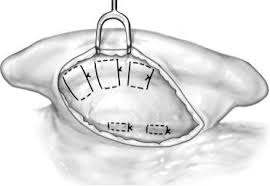 The correction of prominent ears by standard otoplasty techniques has been around for decades. Using horizontal sutures of various materials, known as Mustarde sutures, the antihelix is created or made more prominent to pull the helix of the ear back into a more asesthetically acceptable position. While there are other aspects of the ear (concha, earlobe and skin on the back of the ear) that may need simultaneous reshaping, the placement of sutures into the cartilages to reshape it is the foundational maneuver in otoplasty surgery.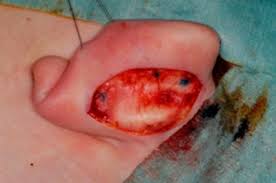 Where to place these horizontal mattress sutures in the ear cartilage is the hardest part of the procedure. Accurate suture placement is key to getting the right ear cartilage shape. The traditional technique is to mark the ear prior to making the postauricular incision by using a needle and dye in a percutaneous fashion at the exact points that the sutures should bite into the cartilage. This is usually done using twelve cartilages marks so that three horizontal mattress sutures could be placed.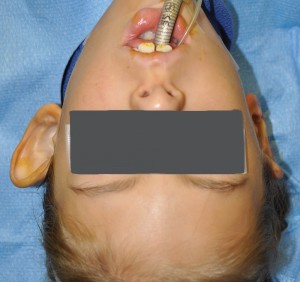 Some plastic surgeons, including myself, do not mark the cartilage prior but instead use a free hand technique. In this method it is estimated where the sutures should be placed once the skin on the back of ear has been removed and the cartilages exposed. This is a trial method of suture placement which often can takes multiple tries to get all the sutures in the right place for the desired ear shape. It is effective but can sometimes be tedious to get just the right placement.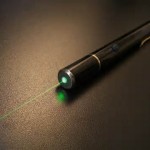 A non-needle method to use for marking where the sutures should be placed can be done using a laser pointer. With the ear cartilage exposed and folded forward, a laser pointer is used to point to the correct skin position. This can be done by someone holding the small hand-held laser device pointer and be told where it should be pointed or can be done with the surgeon holding it themselves in a sterile glove or wrapping. The penetrating beam of the laser pointer can be seen on the exposed cartilage on the opposite side from where it entered the skin. Hence, the term 'laser-assisted otoplasty'. It serves the same purpose as the needle and dye but without piercing the skin with a needle.
Dr. Barry Eppley
Indianapolis, Indiana