Sunday, February 15th, 2015
Correction of prominent ears is an aesthetic surgery that has been done for over a hundred years. The anatomy of an otoplasty is relatively simple as there is just skin and cartilage associated with much of the ear. A wide variety of cartilage changing techniques have been used in otoplasty and they all can have similar success if technically well performed. But the one constant in aesthetic ear reshaping surgery has been the excision of skin on the back of the ear.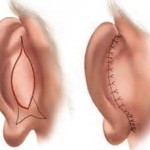 Since otoplasty was first described and during the early years of its development, it was believed that an elliptical removal of skin on the back of the ear was important. However,  such excision of the posterior auricular skin during otoplasty has been shown more recently to provide little if any benefit to keeping the ears 'pinned back'. Rather the workload of an otoplasty is carried by the cartilage reshaping efforts since this tissue is far stiffer and resistant to deformation than the overlying skin.
In the February issue of the Journal of Plastic Reconstructive and Aesthetic Surgery, an article was published entitled 'Otoplasty: The Case for Skin Incision by Higher Volume Operators'. In this clinical study, the association between skin excision on the back of the ear and recurrence of ear prominence in otoplasty surgery was evaluated in about 120 otoplasties performed over a two year period at one hospital. Recurrence of prominence at the first follow-up appointment (mean follow-up 3.4 months) was 10.2%. Plastic surgeons who performed low numbers of otoplasties had significantly higher recurrence rates than high volume surgeons. There was no statistically significant association between skin excision and recurrence of prominence. Thus the authors do not advocate any skin excision on the back of the ear during otoplasty surgery.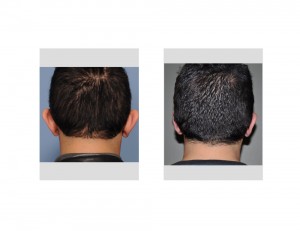 Most otoplasty surgeries today approach the cartilage manipulation from the backside of the ear. This traditionally involves a vertically oriented ellipse of skin which provides wide exposure of the cartilage on the back of the ear. Usually no actual ear cartilage is removed in most cases and the desired bend in the cartilage is achieved by suture placement. Over the years I have evolved to making only an incision or just a very narrow strip of vertical skin excision whose only purpose is to provide cartilage exposure.
Besides its negligible benefit to maintaining the new ear shape, keeping as much skin as possible on the back of the ear has numerous benefits. Adequate skin cover over the placed cartilage sutures can help prevent the risk of long-term knot visibility and/or extrusion/exposure. It can also help prevent a feeling of tightness on the back of  the ear. Lastly should ever a revision for overcorrection be needed, having a normal amount of skin can be helpful in its release.
Dr. Barry Eppley
Indianapolis, Indiana