Friday, November 8th, 2013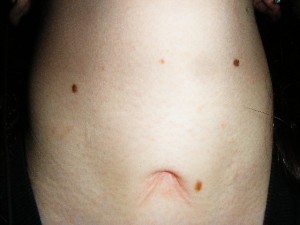 A tracheotomy is a life-saving operation but will usually leave a scar deformity when it is removed. This is due to the sustained pressure of the tube through the neck tissues and that, when the tracheostomy is removed, the wound is allowed to heal by secondary intention. Thus it is not surprise that wide and depressed neck scars often result. In addition because there is loss of fat tissue between the skin and the trachea, a direct adhesion can result creating a tracheal tug that is evident with swallowing. As one swallows the overlying indented skin can be seen to be pulled inward.
Lipofilling by fat injection grafting has become a popular method of treating many soft tissue defects. It can create a new soft tissue interface depending upon how much fat survives. Given that some trach scars are both wide and indented, fat grafting is often used in tracheostomy scar revisions. I often combine a dermal-fat graft with scar excision and closure to solve the soft tissue loss problem in the neck.
In the July 2013 issue of the Journal of Craniofacial Surgery, a paper entitled 'Management of Tracheostomy Scar by Autologous Fat Transplantation: A Minimally Invasive New Approach' was published. In a clinical study of ten patients with retracted and/or wide tracheostomy scars, fat injection treatments were done under local anesthesia or sedation. Before injecting the fat, the scar bands between the skin and the underlying tissue were released with a needle. (subcision) Most tracheostomy scars treated were done with two sessions six to twelve months apart.with an interval of 6 to 12 months. Injected fat volumes was between 3 and 10ccs during the treatment and an additional 3 to 5ccs during the second injection. In some cases (30%), scar excision was performed as a final procedure. All patients achieved an aesthetic improvement and were satisfied with the result at long-term follow-up. (near two years)
This study shows that fat grafting can be an effective treatment of the indented tracheostomy. But how does it compare to a one-time scar excision with dermal-fat grafting which can be done in one single session under local or sedation anesthesia as well? It is certainly no less invasive given that the scar size is very small and is inefficient in terms of getting to the final outcome. But if one is not bothered by scar width and the depression of the tracheostomy scar is the only issue, fat injection grafting would be a logical treatment choice.
Dr. Barry Eppley
Indianapolis, Indiana