Monday, August 26th, 2013
Scar revision techniques have a long history in plastic surgery and are used as much today as they were many decades ago. While many patients think of scar revision as being done with a laser, like a magic eraser, the reality is that surgical excision and rearrangement of adjacent tissues is often more effective. Such scar revision techniques often have names that visually describe how the scarred tissues are rearranged.
One of the most well known plastic surgery scar revision methods is the Z-plasty. Geometrically the Z-plasty is a transposition flap technique that allows two adjacent undermined triangular-shaped skin flaps along the same axis to be switched in position and lie at right angles to each other. Much like robbing Peter to pay Paul, the triangular flaps comes from areas of tissue excess and are placed into a zone of tissue deficiency.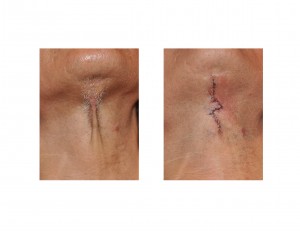 What a Z-plasty does best is to break up a straight scar line and reorient part of it so that it lies parallel to more favorable relaxed skin tension lines. (RSTLs) By so doing, the scar may be harder to eventually see (not a straight line) and less prone to recurrent scar band contracture/tightening. It does at the expense of actually making the total scar length longer, which may be especially helpful across moveable body surface areas such as joints and bony prominences.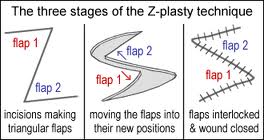 The Z-plasty is done in a variety of ways including the classic technique as well as multiple and adjunct z-plasty methods. The Z-plasty was originally described as being made up of three limbs, a central and two parallel side limbs with varying degrees of angulation (30 to 75 degrees, 60 degree most common) to the central axis. This angulation from the central axis affects how much scar lengthening is achieved. A 60 degree angulation creates a 75% scar length increase. Conversely, for example, a 30 degree angle results in only a 25% scar length increase.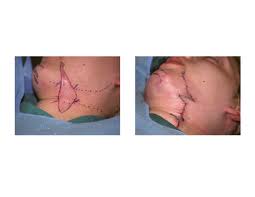 Variations of the z-plasty scar revision technique include multiple serial and the compound technique. The serial z-plasty technique is obvious in its description and is used in longer scars where a single large z-plasty is not aesthetically beneficial. The compound z-plasty is done by making two separate flaps at the end of the scar oriented at 45 degrees to each other.
While the z-plasty is an historic and well known scar revision technique, it is not as useful for many facial scar revisions as one would think. Its role is limited to linear scar band contractures and scars near moveable structures such as the corners of the eye and mouth.
Dr. Barry Eppley
Indianapolis, Indiana