Saturday, November 26th, 2016
Muscle augmentations are done throughout the body using a variety of soft solid silicone implants. The arm is no exception as bicep and tricep augmentations are done by placing the implants on top of the muscle but under the fascia through small armpit incisions.
But not every male who desires bicep augmentation wants to have an implant placed. The  other alternative is a natural one using one's own fat. Soft tissue augmentation through fat injections is now a well recognized procedure. It offers an increase in soft tissue volume, like the size of a muscle, that is directly dependent on how much fat is injected and how much fat survives.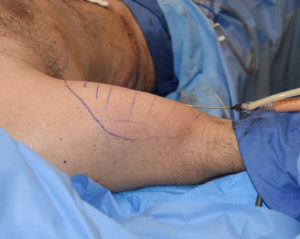 Whether bicep augmentation can be done by fat injections also depends on how much fat one has to harvest. Using the 'halving principle' of fat injection outcomes, 50% of the fat that is harvested is lost by concentration and another 50% is lost by resorption after injection. Since the typical bicep implant is in the range of 100cc to 200cc in size, it would require around 1500cc of liposuction aspirate to achieve a similar result using fat.
Bicep augmentation by fat injection is really reserved for those men who are already having some significant liposuction done. While the upper arm bicep region is a relatively small body area, it still requires more injected fat volume than one would initially think.
Dr. Barry Eppley
Indianapolis, Indiana